T-paita F**k the milk
Hauska t-paita, jossa on teksti "F!#k the milk where's the whiskey tits?!"
Painettu edessä
Lahja huumorilla
Materiaali: 100% puuvillaa
Valitse viidestä eri koosta.
Väri: Musta
Ilmoita minulle, kun tuotetta on taas varastossa
Saat ilmoituksen, kun tuotetta on taas varastossa

Peruuttamisoikeus - 14 päivän - 30 päivän vaihto!

Suojattu ruotsalainen verkkokauppa
SSL:llä ja maksu Paysonin kautta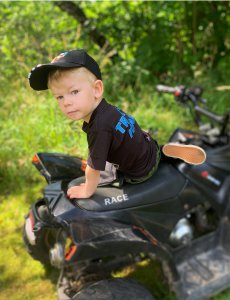 Produktvisning
Lyhythihainen t-paita, musta ja teksti "F!#k the milk where's the whiskey tits?!", joka on painettu valkoiseksi vaatteen etuosaan. Pusero on valmistettu 100% puuvillasta ja sitä on saatavana 5 eri koossa 70-120.
Hauska t-paita, jossa on englanninkielistä tekstiä huumorin hengessä.
Pesuohje: 40 °
Materiaali: 100% puuvillaa
Väri: musta
Toimituskulut & Toimitus
Lähetyksesi lähetetään arkisin 24/48 tunnin sisällä tilauksesi vastaanottamisesta ja vahvistamisesta. Toimitusaika on normaalisti 3-10 työpäivää paketin lähettämisestä.. Lähetyksesi lähettää yleensä PostNord tai DHL. Saat ilmoituksen ja noudetaan sitten paikalliselta edustajaltasi. Sinun ei tarvitse odottaa ilmoitusta, jos seuraat toimitustasi lähettämämme seurantalinkin kautta. Kun lähetys saapuu välittäjälle, tuot meiltä saamasi toimitusnumeron ja syötät sen noutaaksesi lähetyksen.
Toimitus sisältää kaikki toimituskulut * ja on täysin vakuutettu.
Lähetyksessä olevista vaurioista on ilmoitettava meille 48 tunnin kuluessa toimituksesta.
Näet hinnan kassalla, kun olet syöttänyt toimitusosoitteen.
Meiltä lähetetyt paketit ovat oikein mitoitettuja ja tavarasi ovat hyvin suojattuja.
Täydelliset ostoehdot löydät täältä
*Toimituskulut alkaen 4,90 € tilauksesi painosta riippuen
Palautuskäytäntö
Peruuttamisoikeutesi (peruuttamisaika) on voimassa 14 päivää. Tarjoamme 30 päivän vaihto-oikeuden. Ennen palautusta tai vaihtamista sinun on aina tehtävä meille ilmoitus. Voit tehdä tämän lähettämällä meille sähköpostia osoitteeseen info@vxokids.fi. Löydät palautusosoitteen, kun teet palautusilmoituksen. Peruuttamisaika alkaa päivästä, jolloin vastaanotat tuotteen.
Jos sinun on palautettava tuote, ilmoitamme sinulle sähköpostitse hyvityksestä heti, kun olemme vastaanottaneet ja käsitelleet palautetun tuotteen.
Palautus tapahtuu omalla kustannuksellasi, ellei tuote ole viallinen tai jos olemme pakkaaneet väärin. Palautukset tulee lähettää kirjeenä tai pakettina, ei postiennakkomaksua vastaan. Vaihdossa olet asiakkaana vastuussa uudesta toimituksesta meiltä sinulle. Lue lisää ostoehtojen peruuttamis- ja vaihto-oikeudesta. Lue lisää peruuttamis- ja vaihtooikeudesta Ostoehdoista.